Falcon Football is Back
Los Fresnos Falcons vs. Rivera Raiders
Hope filled the air at Leo Aguilar Stadium as Los Fresnos Varsity football team prepared to take on the Rivera Raiders October 23, 2020. The crowd cheered "GO FALCONS!!!" as our mighty falcons ran onto the field.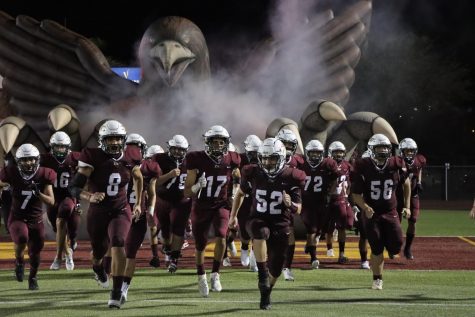 For the first half of the game our falcons were tied with the Rivera Raiders 16 to 16, it wasn't until a player made a touchdown two minutes before halftime which put Los Fresnos at an eight point lead. After halftime all our falcons did was go uphill, ending our first football game with a win and a score of 38 to 16 with a final touchdown made by senior Francisco Melendez. I'd like to take a moment and capitalize on this touchdown because it was a pass interception touchdown, where Francisco Melendez ran 100 yards in one play putting Los Fresnos 22 points ahead of the Raiders.
Because of COVID-19 LFCISD took precautions that enforced social distancing of six feet from groups, mandatory masks, groups couldn't be more than ten people, and temperatures taken at the entrance. Along with these guidelines that were put into place, football players and staff on the field as well had to wear mandatory masks during the whole game. Los Fresnos halftime show was also completely altered for the protection of students which involved color guard not participating in football games at all this year, band was not on the football field but behind the football field post and played songs while sitting in chairs, and finally the stars team were in a line performing to a pre-recorded song "Sucker" by the Jonas Brothers.