The Unit Preparing Students for the Future through Drink Stand, Gift Shop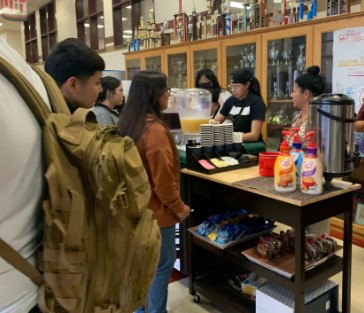 Around 8 am each day, you will see Los Fresnos High School students lined up to buy a drink at The Unit's drink stand in front of the bus dropping area near the library.  Students from our school's Unit program sell drinks for a dollar before the school day begins.
This program is run by Falcon Express. They sell for about 20-30 minutes every day, starting at 8 am. The drinks available are mocha coffee, pomegranate juice, pineapple juice, and a special mixture of pomegranate and pineapple juice. All the drinks are made by the students in The Unit. These drinks are great for students because they serve as energy boosters to prepare the students for long days at school. The coffee allows students to wake up in order to be more productive with their assignments during class. Every day students line up to purchase a drink and most of the time they are so popular that they sell out of their stock.
The newest additions to the stand are muffins and packaged donuts. The flavors available are banana nut muffins, chocolate muffins, blueberry muffins, white powdered donuts, and chocolate glazed donuts each for a dollar. 
Although students are supervised by teachers, it is mainly run by students. This stand is beneficial in many ways. It teaches students how to run a business, handle money, and treat customers. These skills will allow students to learn how work environments function and prepare them for when they begin to work at a job. It is a great learning process as well as a way to raise funds.
"Around $4,000 in funds have been raised as of now," said Mrs. Farrar, the instructor of the Food Truck program.
Another project The Unit is currently working on is the gift shop located here in our high school. The gift shop is open every morning before class in room 317 from 8:00- 8:20 AM. The gift shop offers school merchandise for an affordable price such as teddy bears and get-well-soon gifts for students to give to their fellow peers and teachers. The price range of the gift shop is anywhere from $1 to $20.
The gift shop also sells school-themed sweatshirts, shirts, lanyards, and game-day attire. A new item to look forward to is a falcon-themed cardigan. The cardigan has been ordered and should be in stock soon. Another exciting addition is the incorporation of The Unit's greenhouse with the gift shop. Pottery and plants should be available soon and would be made entirely by students.
"Programs like the food stand and the gift shop are to improve students' skills to promote independent living and post-secondary living." said Mrs. Thomae, a teacher from the unit.
Thomae says The Unit has improved students' lives through their numerous different activities. Some of these activities include the gift shop, greenhouse, The House (independent living skills), Falcon Creations, and the Unique Learning 4-H program which are run by the Transition Readiness and Career Center (TRACC).
"The Unit has also been working with Texas workforce solution and Tropical Texas which are agencies that help students attain a job or career," Thomae said. "The entirety of The Unit focuses on employment, education training, social recreation, leisure, and independent living."