LFU Holds its First "Market Day"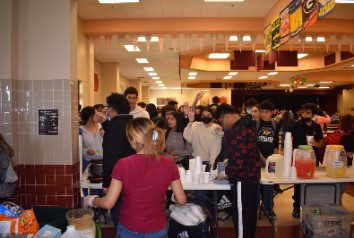 May 19 was the first ever Market Day at Los Fresnos United. Developed by the Empowered Organization, Market Day was the final project for Mr. Lugo's Entrepreneurship 1 Class, where they use the knowledge they learned from the class and apply it to the real world. 
"Students develop a small business idea, create a product or service to sell, promote the product or service, and finally sell their product or service to students on campus," Mr. Lugo said.
There were a total of eight start-up businesses selling during A, B, and C lunch. All these certified students sold food products, while learning about the Texas Cottage Law, a law that permits individuals to sell specific foods made in their own kitchens. 
Some businesses that participated and what they sold included: 
Bubble Ka Fei: Boba tea, smoothies, coffee, and matcha, while also selling a variety of pastries. Pastries included strawberry shortcake cups, cake pops, and cookies.

ALL Mango: Mangonadas, a sweet cold drink combination of mango, chamoy, lime juice, and mango. 

Valley Empanadas: They sold empanadas filled with cajeta

Rico's: Elotes, hot cheetos and cheese, with coke, sprite, and 3 different lemonades for beverages.

Sweet Dino: Included are sweets of cookies and fudge brownies. 

The Cake Stop: Vanilla, chocolate, and strawberry cake pops, topped with colored sprinkles. 

STX Kettle Corn: They sold bags of kettle corn. 
The day of Market Day, the businesses were extremely excited to showcase their products they had been preparing the night before. 
"Boba is really popular right now," said Bubble Ka Fei worker Natalia Chavez. "It's a big hit, and I'm hoping we sell out. But I think what I'm most excited for is making the drinks themselves."
Looking at how quickly the products were being sold, it was noticeable to see that there were quite a few favorites within the customers; one being South Texas Kettle Corn. 
"I really wanted to buy kettle corn at Market Day," said student Erin Encinia." I'm really glad I had the chance to try it. It was really good."
Additionally, many students and teachers were proud that the students had the ability to complete this Market Day. 
"I thought it was pretty amazing the kids had the opportunity to put together their little sales, whether it was food, drinks, or baked goods," said Algebra 2 teacher Mr. Gonzalez. 
Because this was the first Market Day, there were a few hiccups, but they hope to learn from this experience and improve for next year.
"I think overall it was a good experience," Mr. Lugo said. "Even the issues that were happening made the kids able to learn from them. It allowed them to learn real-life situations." 
Overall, the students used their knowledge from the subject they learned within the semester and applied it to real world experience. This goes to demonstrate that individuals as young as students can be successful in a business or any endeavor they wish to achieve.