Seasonal Selections – Summer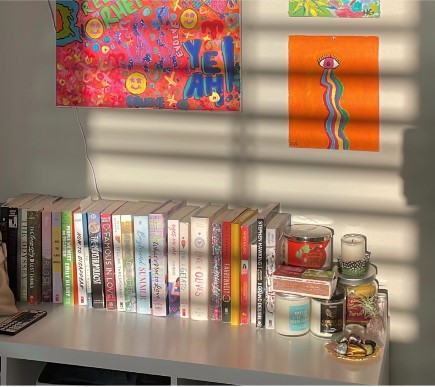 Whether you are on a vacation soaking up some sun or at home in your bedroom, finding good books to read during the summer may be tough. You may be having reader's block or genuinely can't find a good book, so sometimes you may look to others for help.
I want to give you fellow readers a couple of great summer books that'll keep you turning the pages of books filled with drama, suspense, and love that captivate that summer feeling. 
The Rest of the Story by Sarah Dessen 
The Rest of the Story follows the protagonist, Emma Saylor, whose summer was all planned out. However, when her plans go awry, her father sends her to the only place he can before leaving the country. Her mother's family in North Lake. 
Because her mom died when she was twelve, Emma hadn't been there since her childhood, and when she gets there, she realizes that there is actually more to the town than she thought. First off, there are two contrasting communities living there. Her mother's part, the suburban class of workers, and her father's part where the wealthy inhabit fancy resorts in the summers. Secondly, she has a whole other family from her mom's side she was unaware of. The more she spends time there, the more she believes she is also split between her sense of belonging. 
In enters Roo, the boy who may hold all the answers to Emma's past, about her mom, both her families, and discovering who she really is. As Emma begins to put together the history that's been closed off to her, she begins to get closer to her estranged family, and Roo, too. 
Yet, when her summer is over, who will Emma choose? The life she had before or this new life awaiting her?
About a girl reconnecting to her past, The Rest of the Story is a coming-of-age book that provides a peaceful and soft-hearted summer feel with the significance of knowing where you came from. 
Ranging to prices from $11.24 to $12, this book can be located on Amazon, at Barnes and Noble, and Target. 
Malibu Rising by Taylor Jenkins Reid
When most people think of summer books, they think of romance, devotion, and everything in between. However, not every summer story has to be one of love. 
Malibu Rising, written by Taylor Jenkins Reid, author of The Seven Husbands of Evelyn Hugo, talks about the lives of the four Riva siblings who throw a legendary annual end-of-summer party. However, this year is different because this one will finish with a fire that will leave Malibu ablaze. 
No one knows who started it. 
It could have been Nina Riva, the oldest Riva sibling and a known supermodel and surfer, who just got publicly dumped by her famous husband. Was it her brothers, Jay and Hud, one a champion surfer, the other a famous photographer, who both have long-harbored secrets endangering the bond they've shared since childbirth? Or Kit, the youngest of the sons, who is cherished and often disregarded? Maybe it was one of the hundreds of guests who showed up to the party, some intoxicated and others who went with a purpose? 
The book gives us an hour by hour play through the day, ultimately leading up to the big party and afterward, when the mansion is up in flames. With twists and turns in every direction, Malibu Rising tells us the story of the Riva family, the unforgettable night, and the importance family, fame, and secrets will have on each other.
You can find this book in Target, Barnes and Noble, or on Amazon for prices ranging from $14.99 to $16.61.