Texas Winter Storm
March 8, 2021
On the week of February 15, Texas had one of its worst wither storms in state history. From Dallas to the RGV, frigid temperatures pummeled across the state bringing large amounts of snow to the north and icy conditions to the south.
Snow in Texas!?!
Yes, you heard that right! Texas got a lot of snow as the winter storm was passing by. Snow mostly occurred from San Antonio upward. In Texas, the Dallas-Fort Worth area picked up 4 inches of snowfall, their heaviest snowfall Feb. 2010. Parts of the far north Houston metro area measured up to 4 inches of sleet and snow. In Austin, Texas, 6.4 inches of snow was recorded. Thats crazy! San Antonio recorded up to 2.5 inches of snow, leading to an awesome snowy view of area freeways. It was their heaviest snowfall in 36 years. Parts of the outer area, including near SeaWorld, picked up 6 inches of snow. College Station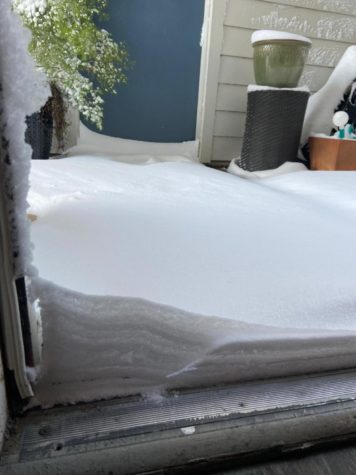 got 6 inches of snow and 9 inches was reported in Longview,TX. 80% of the state was covered in a fresh blanket of snow.
When all was done the snow in Texas was followed by the coldest temperatures in decades for some cities. Dallas saw the coldest temperatures in the state with a record breaking 2° degrees. That's colder than it was in Anchorage, Alaska. Austin was second with 7º degrees. Houston and San Antonio saw about the same temperatures with around 10º-11º degrees. The RGV didn't quite get that cold but it was still 23º degrees with a wind chill in the single digits. For the first time in the US state, all 254 counties are under a winter storm warning.
Icy Conditions
Along with snow and cold temperatures came a lot of ice causing power outages, car accidents, and water loss.
Since Texas is on its own power grid it cannot get power from the other two power grids in the United States. This means when power in Texas goes out, it stays out and can't get help from other parts of the country. Many energy companies planned scattered power outages in order to conserve energy. Customers were mad at energy companies because they turned off their power for long periods of time causing peoples houses to drop to 30º.
Ice can also cause dangerous conditions on the road. At least six people died and dozens were taken to hospitals after an accident involving more than 100 vehicles on a Fort Worth interstate on February 11. Officials said 133 vehicles were involved, and the crash spanned a half-mile. According to McLaughlin, a guest speaker on The Weather Channel,"It looks like a couple of vehicles lost control, and when that happened, everything just piled up behind them."
Even after people had to deal with no power and horrible road conditions they still had to deal with one more thing.NO WATER!!!Multiple households were without water due to pipes freezing. Other people had plenty of water, however it is not what you think. Due to the freezing temperatures water pipes expanded and bursted into homes causing flooding.
Overall, this was one of the worst freeze Texas had ever been through.We might not see another storm like this for about 20 years. Although many people had fun in the snow, other were out fighting for their lives trying to keep warm. People are still suffering. If you would like to help you can visit and donate to Rep. Alexandria Ocasio-Cortez website. Click on the word link to access the page.