Los Fresnos Swim Team Competes at State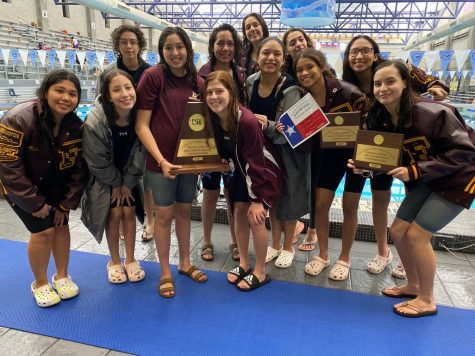 The Los Fresnos swim team recently qualified for state at the regional swim meet on February 6, 2021. In order for the swim team to make state, they had to win first place at the regional swim meet. The girls swim team won the title of regional champions, which allowed the swim team to compete at state.
On Friday, February 26, 2021, the state swim meet took place at the Josh Davis Natatorium and Josh Davis Pool in San Antonio, Texas. On Friday the boys from division 6A competed against 363 other swimmers from 63 other teams. On the boys swim team six boys went to state but only four boys competed and two were alternates. The boys had competed in a 200 medley and Evyn Garcia had competed in the 100 fly. Overall at the end of the swim meet the boys had placed 48th out of 63 other teams.
On Monday, March 1, 2021, the girls from division 6A had competed against 357 other girls from 50 other teams. For the girls, the team took seven students in total, four were swimming, one of the girls dived, and two were alternates. At state, the girls had competed in a 200 free relay and a 200 medley relay. Jada Ashford had competed in an individual 50 free and 100 free; Anapaula Hernandez had competed as an individual diver at state also. Overall the girls placed 33rd out of the 50 other teams at the end of the swim meet.